Personal Details 1) Surname:
Edwards
1.1) First names:
Asley
1.2) Age:
25
1.3) Gender:
Male
1.4) Phone number: 1.5) Current Adress:
El Corona
2) Are you Currently in employment?:
Grotti and Mechanic
2.1) If yes, what is your current occupation?:
Grotti as Body guard and Mechanic fixing Cars
3) Have you ever been convicted for a serious crime?:
Nope
4) Have you ever served time in prison?:
Nope
5) Do you hold a full Los Santos Driving License?:
Yes
5.1) Has your driving license ever been suspended?:
Nope
6) Do you have a firearm license?:
Nope
7) Tell us something about yourself and why you wish to become a Los Santos Civil Security Services guard (minimum 200 words):
My name is Asley Edwards and I work for Grotti and for Mechanic. Im a Normal and Nice guy with a Good Manner and who gives Respect to people. I always Help the Poor people and Give Money to the Charity. I want to join the Los Santos Civil Security Service Guard for a Reason.I want to Stop crimes in Los Santos and make the Criminals go to prison. I Hate the Criminals and the Gang Once My Friend Mike at El Corona was sleeping and he went to bed. When he sleep some robbers came and stole every Gatget and Stuff and Mike did not Realise it and was shocked what they done. So then i went to PD But they did not take action and i was shocked that they didn't do anythink. I want to join a Company and a Security Service that has some good people who don't give up and i want to join this to give it a try and have a shoot. I always wanted to join a Govermental Job where you can get cars and weapons and where you can do alot of jobs without Fighting. I always wanted to be a Security Guard i work for Grotti and as i look all you need to do is stand still in a door and look if people are going to the VIP Rooms and i got bored. I want to become a Service Guard to stop Fight's at the Clubs, To Stop Criminals and To bring Criminals and Fights to a End.
________________________________________________________________________
(( OOC )) 1) Gender:
Male
1.1) In-game level:
2
1.2) Age:
18
1.3) Geographical location:
United Kindom
1.4) Past character names + Levels:
N/A
2) Screenshot of your admin record(s) [For ALL past accounts please]: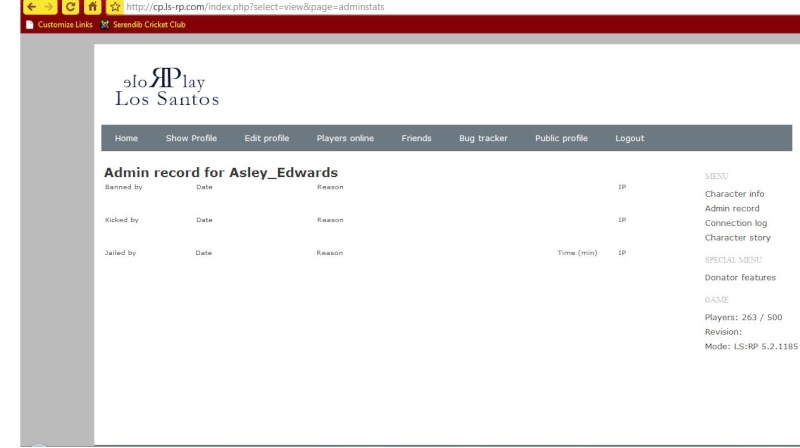 3) For how long have you been playing on LS-RP?:
10 Days (( haven't played for long since due to my internet Problem))
4) How many hours do you play every day?:
5 to 8 Hours Everyday
5) Have you been member of another factions?:
Nope
5a) If yes, which factions and why did you leave?: 6) Can you communicate effectively in the English language?:
Yes and other Language too like German and Hindi.
7) Tell us about yourself and why you want to become a Los Santos Civil Security Services guard (minimum 100 words):
I want to join this Faction for a Reason. I always wanted to join a Faction because it is good and fun to RP. I want to join like a Job that is Faction Because if it is a Faction it might be fun To do Alot Roleplay and Do some fun stuff. I always get Bored because Mechanic Is not Busy and Grotti Dosent Open alot of Times. I always Drive around Wasting my Time and I want to Not waste My time and Do some Good RP job so i want to join this since it is new and i want to get a good rank or Make this company or Faction Better.

Do you posses any Law Enforcement Knowledge?:
Nope
8.1) If yes, explain fully: 9) Do you know your way around Los Santos well?:
Yes
---------------------------------------------------------------------------------
References If you have any references from a current guard in Los Santos Civil Security Services, insert them here. Guard's name: Current rank: Quotation:
---------------------------------------------------------------------------------